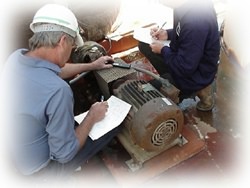 Machinery Reliability Program and Personnel Qualification Evaluation...on and off site
Universal Technologies provides an unbiased evaluation service for your machinery reliability/condition monitoring programs. These evaluation services are designed to recognize strengths, identify areas of improvement, and develop a customized plan of action to take your program and personnel to the highest level of effectiveness. Depending on the nature of the evaluation, time frames generally range from one to five days.
Condition Monitoring Program Implementation and Administration
Universal Technologies provides reliability/condition monitoring program implementation and administration services. Whether the condition monitoring program is a new one or an existing program that has fallen by the wayside, this service eliminates the typical delays and inefficiencies associated with starting up or re-energizing a condition-monitoring program. Our professional staff tailors the program to specific customer needs. For facilities that require a complete "Turn-key" program, Universal Technologies performs all data collection, analysis and reporting functions. For other companies who handle data collection in-house, we provide reporting and analysis functions; for others, we simply provide a second opinion on their existing programs.
Machinery Reliability Analysis and Technical Advising...on and off site
Universal Technologies can provide a "second opinion" and assistance with machinery reliability problems, including vibration analysis, bearing root cause failure analysis, precision alignment, etc. Charges for on-site services are based on daily rates; off-site services are charged by the working hour.
Alignment Services
Universal Technologies provides a variety of field-alignment services, including diagnosis and solution of two-machine alignment problems, machinery train alignment problems, determination and compensation for dynamic movement due to thermal growth, pipe strain, etc., as well as planning and coordination of alignment tasks during facility outages and scheduled shutdowns. Quotes are provided based on the specific services requested.
Training Program Development
Universal Technologies has extensive experience in professional training program and presentation design and development. All Universal Technologies training products meet or exceed recognized accreditation requirements, such as those of the Institute of Nuclear Power Operations (INPO) used throughout the nuclear power industry. Universal Technologies will provide additional details and detailed quotes for development costs based on its thorough product design process.
For More Information Contact: Universal Technologies, Inc.
31411 Upper Bear Creek Road
Evergreen, Colorado 80439

Tel: 303-674-7277
Fax: 303-674-7377
Internet: Email Us